Upcoming Events
Open Access Week 2014 is October 20-26. Join us for a film screening and treats!
Past Events:
Open Access Week 2014: Death of Evidence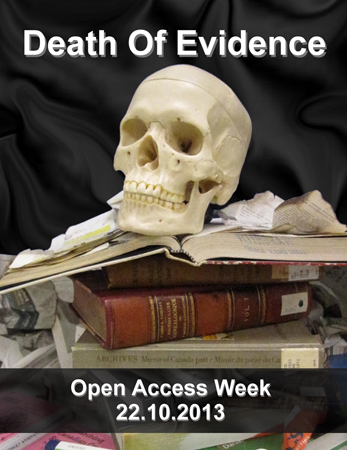 York University celebrates International Open Access Week. Click here to see all our events!
York University Libraries Presents: The Great Debate
Should the blog replace the book?
When: Monday October 22nd, 2012, at 1pm.
Where: Scott Library, 2nd Floor Atrium
Twitter: #blogvsbook
Open Access Week - October 24-28, 2011



PUBLISH! Graduate Students speak about their involvement in publishing.
Wednesday October 26th, 2011
Senate Chamber, 10:30am - 12pm
Scholarly Communications Refresher Sessions for Liaison Librarians
Room 108C, Scott Library
August 24, 2011 @ 10:30 am
August 25, 2011 @ 2:00 pm
Scholarly Communications Retreat for Liaison Librarians
Date: Monday December 6th
Time: 9:15-12:30 p.m.
Location: Scott Library, Room 503

Open Access Week at York University
October 18th - 24th, 2010

Click here to view a detailed listing of planned events.

Watch for treats being distributed throught Scott Library.

Open Access Week
October 19th - 23rd, 2009

York University Events:

Open Access Initiatives for Math researchers
Tuesday October 20, 2009

Faculty and Librarian Deposit Day
Wednesday October 21, 2009

Publishers and Policies Workshop
Wednesday October 21, 2009

Faculty of Graduate Studies: Research Support Series
"Publish & Flourish" Journal Information Session
Tuesday, May 12, 2009
2pm - 4pm, Accolade East 013
Scholarly Publishing Speaker Series: Copyright in the Academy
Postponed
Graduate Student Journal Publication Symposium
April 8th, 2:30-4:30 p.m., Screening Room, Sound and Moving Image Library, Scott Library *registration required*

Open Access Day
October 14th, 2008.
Sticky Wicket sculpture
Keele Campus, 4:15 pm

York University librarians and archivists distributed information about open access and treats to students.
Scholarly Publication Speaker Series: Open Access: what it means for research, teaching, and one's career.
Apr 16, 2008, 12:00 -- 1:30 pm,
Accolade Building East - Lecture Hall 001, York University
Evolutions in Scholarly Publishing
Andrea Kosavic & Stacy Allison-Cassin
Fri. March 7th, 10:30-12:00pm
Alternative publishing methods are vastly increasing possibilities and opportunities for the dissemination of scholarship. Adoption of these methods is being driven by the open source, open access and author rights movements and is reshaping the landscape of scholarly communications.
This session will introduce evolutions in scholarly publishing and provide an opportunity to discuss related implications.